Antique Cigar Labels
The Cigar-Label Gazette web site should be your starting point in educating yourself about cigar label art. Their publication is a must if you plan on starting a collection, and if you want to see some beautiful labels check out this site! Subscribe to The Cigar-Label Gazette - Use my handy printable form - if you do I might have a cow!
A Cigar Label Junkie's Passion is an informative site by Chip Brooks, a long time collector. It contains label articles, history, label themes with nice images, and more!
Cigar Label Art, Wayne Dunn's site now has plenty of label images with prices and an auction too.
Cerebro is a good source for purchasing labels, and he now has some great images as well as on-line auctions!
Cigarboxlabels.com Cigar Box Labels, Boxes and Cigar Label Art and more. "More good ones for sale than everybody else in the world combined."
Astral On-Line This wonderful Cigar Label website is designed to give the novice as well as the advanced dealer a hands-on tool in the exciting world of buying and selling original Vintage Labels.

Cigar Label Art, Steven L. Gilberts site has some nice vintage labels for our viewing or purchasing pleasure.
The Forum On-line Antiques Mall, has some of the best images I've seen on Net. Be sure and use their search engine to find all the cigar and tobacco related stuff, there's a lot to be found.
Vintage Paper Memories buys and sells quality stone lithography cigar labels and vintage postcards.
In Stone, Inc., buyer and seller of cigar labels, has some great images for sale.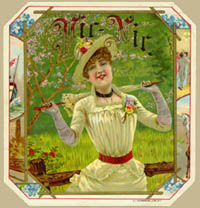 Pir Nir, one of my favorites!
The National Cigar Museum has a great site with images from times past, including a fine exhibit on racism in cigar advertising.
The Historical Museum of Southern Florida has several nice images of cigar box labels and some interesting history on the early cigar making in Cuba and the impact stone lithography had on the art of Cigar Labels.
CANADA IN A BOX, CIGAR CONTAINERS THAT STORE OUR PAST Canadian history viewed through cigar box label art is the theme of this virtual exhibition, which includes images of some 200 cigar boxes and tins. A valuable resource for collectors of smoking antiques and collectibles.
Smoke Magazine has a very good article on cigar labels, their history plus some interesting information on collecting labels.
Cigar Life, another on-line magazine has a very good article on collecting labels as well as some nice images.
Cigarboxlabels.com, David Beach's web site features cigar labels and other collectables.
The Five Cent Cigar Company - Antiques & Collectibles has a great deal of cigar collectibles and labels
Cigar Bands
Whizstreet "Up In Smoke" Cigar Band Museum ... put on your smoking jackets light up your "Sunday Cigars" and be prepared to be impressed...Scott Tomlin's web-site is truly inspirational.
Cigar Art
Edin Gutierrez has a nice body of work in cigar-related paintings as well as humidors.
Cigars
Famous Smoke Shop online sells hundreds of cigar brands available right here at your finger tips. They also have a huge supply of accessories which includes cigar lighters, humidors, cutters, Etc. Find Famous Online Here
Cigar Company Links are $100 per year or an equal value in barter for fine cigars.
Linking
This list is primarily about antique cigar labels (free links), however if you want a link here and have a cigar art related site, you have to provide something in exchange. My primary site is theSignShop.com, so if you want to exchange links, I would want my link to point there. Here's what the link should say - theSignShop.com sells custom wooden signs, decals, stickers, metal letters, plastic letters, cast plaques, vinyl lettering, as well as many sign related items (or something similar).
If you would like to purchase this site or have some commercial ideas give me a call - 225-567-1900
SteelJourneys.com My motorcycle Blog
DBP Electrical Consulting
Freelance Electrical Estimating Services & Electrical Estimator Training / Electrical Contractor Training
---
Home
Copyright 1999-2001, Pelican Web Services